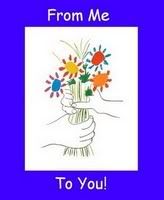 Just received this award from Kat whose blog
Beautiful Elegant Designs
is a constant inspiration to me. Thank you so much Kat!
1. Thank the person who gave you the award.
2. Copy the Award.
3. Post it in your blog.
4. Tell Us 7 things that your readers don't know.
5. Link 7 new blogger as recipients.
6. Notify winners of award with comment on their blog.
7. Keep being Awesome.
~~~
1. Though I love dressing up my favorite item of clothing is probably a
hooded sweatshirt
.
2. I used to sneak sips of my
dad's beer
as a toddler when he wasn't looking.
3. My favorite movies are usually ones that involve
families
with all of their idiosyncracies.
4. When I was 10 I decided my favorite color was white because a visiting teacher who put on a light show told us that
white light
was made up of all of the colors of the rainbow and I didn't want to favor one color over another. Gah, seriously.
5. Along those same lines, I often saught out
ugly toys
and stuffed animals at toy stores because I felt sorry for them.
6. In highschool when I fantasized about my
dream car
it was always a
1941 Ford
...I am still smitten with the look of them.
7. I'm fascinated by God's love of the Jewish people,
His chosen
.
~~~
I nominate:
True Femininity
because she is a wonderful example of a woman growing stronger in her faith day by day...and I love looking at her fabulous, ladylike outfits!
Maggie at
Behind the Teen Scene
because she is super positive and uplifting and her blog is a ton of fun.
Monica of
The Homespun Heart
, whose photography has a way of beautifying the simplest of life's little moments.
The Sweet Nest
- You must check out her blog...isn't her life just gorgeous! Her blog will touch your heart.
Farrah - Her blog
An Old Fashioned Homekeeper
beats true to my heart. In a way she reminds me of myself if that makes sense.
Standing in the Sunlight
, Caroline's blog is a great one...and she's a fabulous seamstress with an eye for prints, fabrics, and aesthetics in general.
Last but certainly not least, Anna's blog
Domestic Felicity
is a great read and is as thought provoking as picking up a very well written magazine. It is sure to get you thinking about your faith and what it means to be a woman of God.